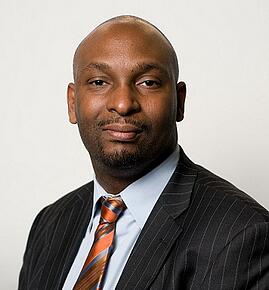 LANSDALE, PA, June 25, 2020 – Global DMS, a leading provider of cloud-based appraisal management software, is proud to announce that its CEO, Vladimir Bien-Aime, was recognized by PROGRESS in Lending for its first ever Thought Leader Award, which honors those within the mortgage industry who've provided innovative and creative ideas for today's unique environment and beyond.
"Our existing awards all acknowledge the good work that executives are doing now, but we think it's time to reward future work and initiatives," said PROGRESS in Lending. "We need thought leaders that are not afraid to step forward and blaze a new trail. We need creativity. We need bold new ideas."
Vladimir helped pioneer appraisal management technology in the 1990's and has been a driving force behind its innovation ever since. At Global DMS®, he recently spearheaded the company's integration with ProxyPics, which enables borrowers to securely take and submit their own photographs of the subject property being appraised – decreasing turn-times, while complying with today's social distancing guidelines.
Mr. Bien-Aime was also recognized for his direct involvement in developing Global DMS' next-generation appraisal management platform, EVO-Res™, which shatters the constraints of yesteryear software systems via its configurable design and workflow automation that allows lenders and AMCs to tailor all aspects of the platform according to their needs in real time.
This all-encompassing appraisal technology, which includes digital forms, custom reporting, AVMs, automated appraisal reviews, and more, means users no longer have to operate additional modules or other software in conjunction with their appraisal management software – thus achieving a streamlined process that eliminates duplicate data entry, manual work-arounds, and compliance risks.
Vladimir believes this all-in-one software approach, along with the ability to configure changes on the fly, provides lenders and AMCs with a competitive advantage for not only today's mortgage environment, but the future – allowing them to instantly adapt to an ever-changing industry.
Mr. Bien-Aime is also petitioning for an open ecosystem that provides the industry's vendors with a consistent, innovative, and effective method of integrating with one-another to deliver unparalleled choices for their customers. If realized, Vladimir believes vendors could maximize their resources by building standardized integrations for all their clients and deploying everywhere through an open mortgage exchange.
"The future belongs to the vendors that collaborate, integrate, and communicate a solution that permits lenders and AMCs to select the best of breed technology," said Vladimir. "This methodology will simplify the transition to new technology and facilitate the gradual decommissioning of the prevalent legacy systems, ushering in a new age of automation, compliance, and profitability."
For the complete list of PROGRESS in Lending's 2020 Thought Leader Award winners, please visit: https://mymortgagemindset.com/the-2020-thought-leader-award-winners-are/
About Global DMS:
Founded in 1999 and headquartered in Pennsylvania, Global DMS is a leading provider of cloud-based commercial and residential real estate valuation solutions. The company's solution set is cost effectively delivered on a software-as-a-service (SaaS) transactional basis that ensures compliance adherence, reduces costs, increases efficiencies and expedites the entire real estate appraisal process. Global DMS solutions include its new EVO-Residential™ (EVO-Res) platform for residential lending, EVO-Commercial™ (EVO-C) platform for commercial lending, eTrac® Enterprise valuation management platform for residential lending, SnapVal™ appraisal pricing solution, eTrac WebForms, Global Kinex®, AVMs, the MISMO Appraisal Review System (MARS®), ATOM (Appraisal Tracking on Mobile). For more information, visit www.globaldms.com or call (877) 866-2747.