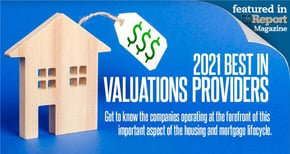 LANSDALE, PA, December 9, 2021 – Global DMS, a leading provider of cloud-based appraisal management software, is proud to announce that it was named 2021 Best in Valuations Providers in MReport Magazine.
This special section featured companies operating at the forefront of this important aspect of the housing and mortgage lifecycle.
To view the full report click here.
If you are looking for the best-of-the-best in valuation software EVO is the solution you need to reduce turn-times, reduce staff stress and stay in compliance. EVO is completely different from other platforms on the market in that it is user-customizable. With a couple of clicks, designated users can customize fields to their exact needs, no matter the business model, without having to rely on time-consuming and expensive custom development work by third parties—or annoying workarounds. EVO's configurability also extends to other crucial areas of the platform, including its workflow automation, user permissions, dashboards, communications, forms, reports, and more.
What are you waiting for? Get a demo today and see why Global DMS was listed in this special section of MReport.
About Global DMS:
Founded in 1999 and headquartered in Pennsylvania, Global DMS is a leading provider of cloud-based commercial and residential real estate valuation solutions. The company's solution set is cost-effectively delivered on a software-as-a-service (SaaS) transactional basis that ensures compliance adherence, reduces costs, increases efficiencies, and expedites the entire real estate appraisal process. Global DMS solutions include its new EVO-Residential™ (EVO-Res) platform for residential lending, EVO-Commercial™ (EVO-C) platform for commercial lending, eTrac® Enterprise valuation management platform for residential lending, SnapVal™ appraisal pricing solution, eTrac WebForms, Global Kinex®, AVMs, the MISMO Appraisal Review System (MARS®), ATOM (Appraisal Tracking on Mobile). For more information, visit www.globaldms.com or call (877) 866-2747.