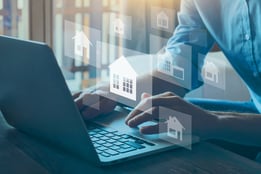 Mortgage Banker Magazine, May 22, 2021 – Although COVID-19 has had a dramatic impact on the U.S. economy, and disrupted so many businesses, the mortgage industry had a remarkable 2020. However, there is a silver lining. According to a new McKinsey Global Survey of executives, their companies have accelerated the digitization of operations by three to four years, and the amount of technology products in their portfolios has accelerated by a shocking seven years. One thing that is certain, change in the mortgage industry is inevitable and lenders that want to stay competitive need to get ahead of the curve.
The mortgage industry has traditionally been very slow to embrace new technology. This line of business has been historically affixed with individuals that are part of the late majority and laggards and not the innovators and early adopters of the technology adoption curve. These industry participants often resist change and impede the forward movement of their organizations as a result – only driven by regulation, GSE policy and necessity. It's hard to believe that it took until 2011, when the GSEs mandated the MISMO 2.6 GSE format for appraisals, for Adobe PDF to become the standard for delivering appraisals.
One of the unexpected ramifications of the pandemic was the necessity for businesses to deploy technology to continue to operate effectively. This game-changer forced many mortgage lenders to reevaluate their current processes and technologies to better facilitate managing remote employees, vendors, and clients while adhering to social distancing guidelines and restrictions. Many lenders were ill-prepared and had to scramble to implement even common technologies, like VOIP phones, to facilitate essential business functions. This shotgun approach often caused significant disruptions to their business operations, which shows that acquiring technology under significant pressure with limited staff can be extremely tough.