MARS®
(MISMO Appraisal Review System)

The MISMO Appraisal Review System, or MARS, is Global DMS' proprietary automated review system that analyzes an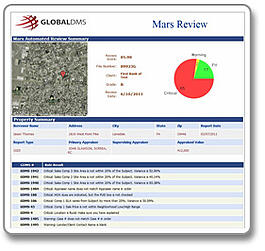 appraisal in real-time for completeness, compliance, and consistency with GSE guidelines, USPAP, UAD, and industry best practices to significantly reduce an underwriter's time spent on the collateral review process.
MARS is a unique solution that can be implemented as a stand-alone product or in conjunction with our valuation management platform, eTrac Enterprise.

Automated Collateral Review Solutions:
Fully customizable and configurable, MARS uses a standard rule set covering hundreds of the most common errors and omissions points in addition to the UAD rules verification as defined by the GSEs. MARS' automation reduces internal review times and helps managers make faster, more consistent, and better appraisal-related decisions.

Uniform Collateral Data Portal (UCDP):
MARS provides automated submission to Fannie Mae and Freddie Mac's Uniform Collateral Data Portal.

MISMO XML Conversion Services:
MARS uses a proprietary conversion process to validate and convert the Base 64-encoded PDF within the MISMO XML file. This will allow the user to have both the MISMO 2.6 XML file and the complete PDF, ensuring identical information between both files. The system is fully configurable and can be incorporated into any existing infrastructure with no installations, no expensive servers, and no additional hardware. The conversion technology is based on XML web services, and comes with great documentation and amazing technical support.

About MISMO®:
MISMO, the leading technology standards development body for the residential and commercial real estate finance industries, is a wholly owned subsidiary of the Mortgage Bankers Association. The MISMO standards are grounded in an open process to develop, promote, and maintain voluntary electronic commerce procedures and standards that allow mortgage lenders, investors in real estate and mortgages, servicers, industry vendors, borrowers, and other parties to exchange real estate finance-related information and eMortgages more securely, efficiently, and economically. An all-volunteer organization, MISMO promotes data consistency among transaction participants, reduces processing costs, increases transparency, and boosts investor confidence in mortgages and real estate as asset classes, while permitting cost savings to be passed on to borrowers and other customers.