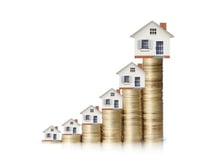 According to a report from Zillow, the total value of every home in the U.S. now stands at $33.6 trillion, or nearly as much as the GDP of the U.S. and China (the world's two largest economies) combined.
Since 2010, the country's total market value has grown by $11.3 trillion – a 50% increase. Zillow noted that 14% of that gain came from new stock entering the market, while the remaining 86% represents increased values of existing stock.
California had the highest percentage of the nation's combined housing value at 21.2%, posting combined home values of $7.1 trillion. Rounding out the top five were New York ($2.7 trillion), Florida ($2 trillion), Texas ($2 trillion), and Washington ($1.1 trillion).
North Dakota and Wyoming had the least amount of shares of the country's housing market, with each accounting for only $66 billion.
For more information, check out Zillow's report.
Sources:
Zillow – zillow.com
Valuation Review – valuationreview.com
Mortgage Professional America – mpamag.com
MortgageOrb – mortgageorb.com