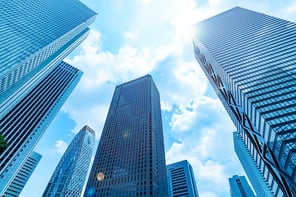 Does your current appraisal software for commercial transactions truly provide the functionality you need? More importantly, does it fit your unique business model and allow you to close your commercial loans as efficiently as possible?
Global DMS' EVO-Commercial (EVO-C) platform has revolutionized modern day commercial appraisal technology and is the only management system of its kind within the marketplace that can automate a lender's specific process without developer intervention.
Designed for commercial lenders needing a centralized platform, EVO-C enhances their experience by providing custom solutions through unique configurations to their specific business model. This new system also helps to streamline the commercial appraisal bidding process by providing an easy way to send RFPs to multiple vendors and receive bids electronically.
In addition, the EVO-C network removes the burden of managing vendors—while still providing lenders with 100% control—by having them register as their own entities and posses their own profiles within the platform. Lenders can view and connect with these profiles as they see fit, while still being able to manage their unique vendor preferences – such as coverage area, fees, and notifications.
100% custom configurations within days or weeks – not months.

Cleaner navigation with less clicks.

Instantly drag and drop large appraisal file uploads.

100% control of vendors, who are automatically cross-checked against asc.gov.
In short, EVO-C transcends traditional architecture and usability patterns that were previously regarded as industry best practice – making it a truly innovative platform.

Learn More at Booth #308 at MBA CREF
In just over a week from now, Global DMS will be heading to the MBA's CREF Multifamily Housing Convention & Expo in San Diego, where we will be exhibiting EVO-C at booth #308 on the trade show floor. If you're interested in learning how EVO-C can transform your commercial appraisal process through its configurable design and unique automation, stop by our booth at any time for more details or a quick demo.
Not attending? Contact us at any time via email at productinfo@globaldms.com.