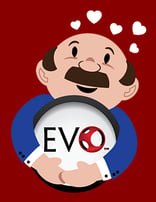 If you're looking to fall in love this Valentine's Day, look no further… EVO™ is the sweetheart your appraisal operations have been waiting for!
With 20 years of experience under our belt, as well as years of defining requirements and collaborating with our clients, Global DMS® has created a revolutionary valuation technology that is truly the most innovative appraisal management software available.
There are so many reasons to fall in love with EVO, and we know you'll be struck by Cupid's arrow once you see what it can offer your business.
100% configurable solution – no custom development work required.
User role-based design that configures each user's security access as defined by their job.
Incredibly responsive system that supports massive files via a unique drag & drop feature.
Digital forms that can be easily customized, saved, and updated in minutes.
Configurable and robust appraisal reviews, on demand.
Complete visibility with custom reporting that captures every field, including forms.
Manages both residential and commercial appraisal orders, providing a one-stop approach.
If you're still not convinced that you'll fall hard for EVO, click here to download our latest PDF to learn more about this next-generation software.
Want a demo? Please fill out the following form.