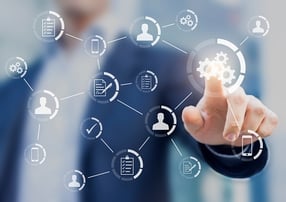 When reviewing different valuation technologies, most lenders and AMCs generally look for sound compliance adherence, cost reductions, and efficiency gains. However, they tend to ignore a key piece of functionality that helps tie these important functions together – configurable workflow automation.
Many within the mortgage industry are just beginning to discover the true power of automation and how it can help transform once monotonous and time consuming processes into after thoughts. That said, staff efficiency, order and vendor management, turn-times, and overhead costs are all negatively impacted when utilizing appraisal software that has gaps in its automation and functionality.
As we all know, the real estate valuation process is filled with complex, intricate, and disparate tasks – many of which are time-sensitive. This fact makes it challenging for those managing appraisals to ensure that not only everything is followed up upon, but done properly.
Having a seamless, workflow-driven valuation process that's powered by configurable automation will all but eliminate manual touch-points, reducing human error and more effectively managing compliance. It also streamlines almost every aspect of both the appraisal ordering and fulfillment processes and allows you to determine how and when everything happens within your specific valuation process based on the statuses of your appraisal orders.
Some of the more common tasks that can be automated include the customization and delivery of emails, file delivery to multiple recipients, notifications and reminders, the updating of an order's status to drive task completion, detailed report generation and delivery, reviews, and much more.
Simply put, if you truly want your appraisal process to become more efficient, compliant, cost-friendly, and easier on your staff, utilizing an appraisal technology with configurable workflow automation is a must. Without it, many of the pain-points you're trying to put behind you will resurface.
Have you heard of EVO-Res™?
EVO-Residential™ (or EVO-Res™) is an innovative appraisal management technology that's changing the valuation landscape by altering how this technology typically functions. Built with the user in mind, EVO-Res is 100% configurable and provides customizable workflow automation from initial assignment through final delivery – allowing users to manage all aspects of the software according to their needs in real time and with minimal resources.
For more information, check out our EVO-Res webpage. You may also contact us any time at evopreview@globaldms.com.