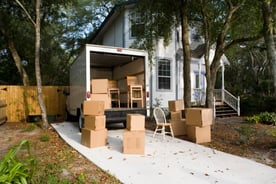 United Van Lines recently conducted its 41st Annual National Movers Study, which tracks state-to-state migration patterns during the previous year. For 2017, the Mountain West, Pacific West, and the South saw the strongest inbound migration, while states in the Northeast and Midwest saw more people moving away than moving in.
According to United Van Lines' press release, its study is based on household moves that are handled by the company within the 48 contiguous states and Washington, D.C. It ranks these states based off the inbound and outbound percentages of their total moves, and gives the following classifications:
"High Inbound" is given to states that experience 55% or more inbound moves.

"High Outbound" is given to states that experience 55% or more outbound moves.

"Balanced" is given to states where the difference between inbound and outbound is negligible.
"This year's data reflects longer-term trends towards movement to the western and southern states, especially to those where housing costs are relatively lower, climates are more temperate, and job growth has been at or above the national average, among other factors," said Michael Stroll, economist and professor in the Department of Public Policy at UCLA.
To see the entire study, including an interactive map of data, click here.
Sources:
United Van Lines – unitedvanlines.com
DS News – dsnews.com