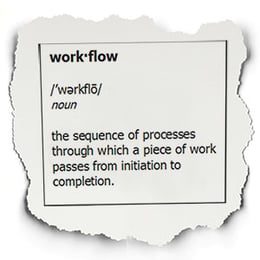 When the mortgage industry thinks about the benefits of valuation management technology, it's generally associated with compliance adherence, cost reductions, and efficiency gains. However, one key piece of functionality is typically absent from not only the minds of most decision makers, but also from most online real estate appraisal management platforms: configurable workflow automation.
Many lenders and AMCs are unfamiliar with this capability, and don't fully understand the hidden value of an appraisal management platform that accompanies a robust Workflow Engine. Having a seamless, workflow-driven valuation management process will allow for quick, easy configurations, and will all but eliminate manual touch points – thus reducing human error and more effectively managing compliance.
As we all know, there are numerous complex, intricate, and disparate tasks involved in the valuation management process that must be completed – many of which are time sensitive. The sheer degree of minutia in the appraisal process can make it challenging for both lenders and AMCs to ensure that things get done when they need to, and get done properly.
That said, a valuation management platform that comes equipped with a powerful Workflow Engine helps alleviate this common pain-point by applying automation technology that can streamline almost every aspect of both the appraisal ordering and fulfilment processes – without the need of human intervention. It allows you to determine how and when everything happens within your specific appraisal management process—under your guidelines and control—based on the statuses of your appraisal orders.
Some of the more common tasks that a Workflow Engine can easily automate include the customization of emails, file delivery to multiple recipients, the scheduling of automatic notifications and reminders, and the updating of an order's status to drive task completion based on set time intervals. Additional workflow actions, such as the running of data analytics or collateral review and scoring products, can also be automatically triggered at certain points of the process.
Simply put, lenders and AMCs that utilize workflow-driven automation will increase their own efficiencies, reduce their overall costs, and become even more valuable to their consumer or lender-clients due to quicker turn-times and more accurate reports that are always within compliance.
The eTrac Workflow Engine:
Did you know that our eTrac Valuation Management Platform comes equipped with its own unique Workflow Engine? This state-of-the-art, status-driven tool is capable of automating virtually every step of the valuation process, such as email customization, file delivery (including UCDP and EAD submissions), notifications, auto-assignments, and much more.
Each available workflow action can be built around any standard or custom appraisal status that's been created. These actions can be configured to process once, always, or only when an order's status changes – giving users plenty of options and full control.
For more information, including additional examples of functionality, check our Workflow Engine webpage.