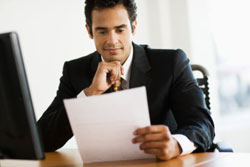 Appraisal reviews are an essential component of the valuation process, ensuring both accuracy and compliance, yet many software platforms only allow these reviews to be completed on the backend – leaving lenders in the dark as to what is being flagged on their appraisals.
This inadequate process flow gives lenders little control over their appraisal reports upfront, which can lead to longer turn-times due to inaccuracies that could've been caught and corrected in the moment.
eTrac's MARS® (MISMO Appraisal Review System) provides the upfront quality control (QC) that lenders need to stay on track, as this robust review tool allows them to see the exact areas of the appraisal report that need to be corrected in real-time – even when using AMCs.
This not only helps improve the overall quality of appraisal reports prior to submission, it also lessens the amount of time that loans spend in underwriting.
In addition, eTrac's unique workflow automation allows lenders to automate these upfront QC reviews and sends timely notifications once they're available.
For more information on how MARS can improve your valuation review process, contact us today at productinfo@globaldms.com.