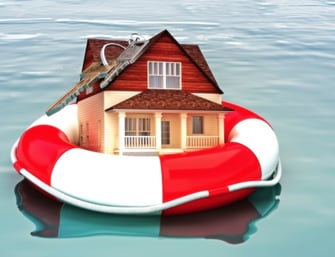 According to a recent report from ATTOM Data Solutions, the country's number of seriously underwater properties is on the decline. The company's "Q1 2017 Home Equity and Underwater Report" showed that approximately 5.5 million homes were seriously underwater at the end of the first quarter of 2017, which is a drop from last year's 6.7 million mark.
In addition, seriously underwater loans also dropped, accounting for just 9.7% of all loans during the first quarter of 2017 versus the 12% seen at this same time last year.
That being said, seriously underwater mortgages were still up slightly from the fourth quarter of 2016, increasing by roughly 100,000. Underwater loans were also slightly higher when compared to the end of last year, increasing by 0.1%.
Though the number of underwater properties continues to improve overall, there have still been some defiant regions where negative equity has remained.
Baltimore, for example, came in with the highest increase of underwater mortgages over the first quarter of 2017 – with a jump of just under 27,000. Other cities that saw significant increases were Philadelphia, McAllen (TX), Cleveland, and St. Louis, according to ATTOM's report.
On a state level, the highest shares of seriously underwater mortgages belonged to Nevada, Ohio, Illinois, Louisiana, and Missouri.
In order to produce its report, ATTOM analyzed publicly recorded mortgage and deed of trust data. To view the full "Q1 2017 Home Equity and Underwater Report" in its entirety, click here.
Sources:
ATTOM Data Solutions – attomdata.com
DS News – dsnews.com
RealtyTrac – realtytrac.com