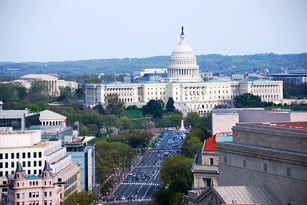 U.S. Representatives Ed Royce (R-CA), Kyrsten Sinema (D-AZ), and Terri Sewell (D-AL) have reintroduced H.R. 898—or the "Credit Score Competition Act"—which would enable Fannie Mae and Freddie Mac to consider alternative credit scoring models when making mortgage purchasing decisions.
According to Rep. Royce's press release, H.R. 898 would require the Federal Housing Finance Agency (FHFA) to create a mechanism that opens up the GSEs to alternative empirically derived and statistically sound credit scoring models.
Currently, both Fannie and Freddie rely exclusively on a single credit scoring model (FICO) to make their mortgage purchasing decisions. The three Reps. argue that this—coupled with the GSEs' overwhelming dominance of the secondary mortgage market—has resulted in a "government-backed monopoly in credit scoring."
Royce, Sinema, and Sewell also point out that a FICO credit score doesn't consider on-time rent and/or utility payments. In contrast, they feel that alternative scoring models are more likely to take these things into consideration and raise the chances of an applicant being approved for a mortgage.
"Many creditworthy and financially responsible (consumers) don't qualify for government-backed mortgages because of an outdated and flawed credit-scoring system," said Rep. Sinema in the press release. "Fannie Mae and Freddie Mac should have the ability to look beyond traditional forms of credit and take into account factors including whether or not borrowers pay their rent on time. Our bi-partisan solution helps more hardworking (consumers) achieve the American dream."
Even if the legislation stalls within the U.S. House, DS News reported that FICO is introducing a new scoring model called FICO Score XD. According to the article, FICO XD scores are derived from how customers pay utility, cell phone, and cable bills, and the new model is being offered to bank credit card issuers to give the "credit invisible" (those with little to no credit history) a chance to be financed.
To see the most recent version of the "Credit Score Competition Act", click here.
Sources:
Rep. Ed Royce – royce.house.gov
DS News – dsnews.com