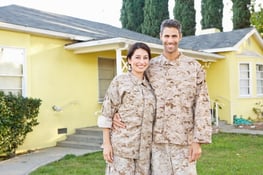 Late last month, the U.S. House of Representatives officially passed the "Foreclosure Relief and Extension for Service Members Act of 2015" (S. 2393) to extend foreclosure protection for military homeowners from 90-days to a 1-year period. The act will remain in effect through 2017.
Rep. Stephen Fincher, Rep. Steve Stivers, and Rep. Denny Heck filed a House companion to S. 2393—known as H.R. 4252—back in December of 2015, and were elated to see the passage of this extension before April 1st – when service members would have first been affected by the significant time difference.
Various veteran services organizations as well as financial services and housing provider organizations—including the American Legion and Mortgage Bankers Association (MBA)—were also pleased to see the passage of S. 2393. In total, according to Rep. Fincher's website, nine mortgage and housing trade associations had sent a letter to the U.S. House urging lawmakers to extend the foreclosure protection.
"Some service members, particularly those leaving active-duty and re-acclimating to civilian life, continue to face real financial challenges," said the organizations in their letter. "Additionally, slow recoveries in real-estate markets in some areas of the country, particularly in areas surrounding military bases, continue and make it difficult for military members to sell their homes or purchase new homes upon receiving new orders resulting from a Permanent Change of Station."
S. 2393 is part of the "Service Members Civil Relief Act", which provides financial protections to our nation's military members that incurred debt prior to their active service. In 2012, Congress temporarily extended the foreclosure protection to 1-year, which was then studied by the U.S. Government Accountability Office (GAO) to ensure its effectiveness.
According to Rep. Fincher's press release, the GOA found that the revised timeframe had successfully protected veterans from losing their homes and didn't cause any unintended consequences for either veterans or lenders. Because of this finding, Congress again extended the foreclosure protection in 2014 to 1-year through December 2015.
Sources:
Rep. Stephen Fincher – fincher.house.gov
HousingWire – housingwire.com