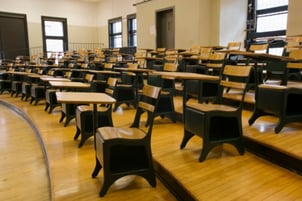 The Appraiser Qualifications Board (AQB) of The Appraisal Foundation has considered, among other changes, removing the college level education requirements for Licensed Residential Appraisers from its Real Property Appraiser Qualification Criteria.
The possible amendments come in response to numerous concerns by industry stakeholders over changes in the real property appraiser marketplace. In particular, many of these individuals don't understand how someone with 10-plus years of appraisal-related experience, but no Bachelor's Degree, is considered unqualified to be a Certified Residential Appraiser, while a person with a Bachelor's Degree in a completely unrelated field of study does meet the qualifications.
Under the AQB's proposal, individuals seeking to become a Licensed Residential Appraiser would only need to meet the following requirements:
Complete 150 creditable class hours, as specified in the Required Core Curriculum.

Successfully complete and pass the 15-Hour National USPAP Course, or its AQB-approved equivalent.
Trainee Appraisers that hold valid credentials would satisfy the new education requirements by only completing 75 additional educational hours instead of the currently mandated 150.
The AQB is also proposing two options for those looking to advance from the "Licensed" designation to the "Certified" Residential Appraiser designation. The first option for these individuals would be to pass a series of college-level examination program (CLEP) exams that touch upon the following subject areas: College Algebra; College Composition; Principals of Macroeconomics; Principals of Microeconomics; and Introductory Business Law.
The second option would be for them to document their successful completion of specific college courses from an accredited university, college, junior college, or community college. These courses include: English Composition (3 semester hours); Economics of Finance (6 semester hours); Algebra, Geometry, or a higher-level mathematics course (3 semester hours); and Business or Real Estate Law (3 semester hours).
In addition, those seeking the "Certified" designation would also satisfy the requirements if they hold a Bachelor's Degree (or higher) from an accredited college or university, or if they successfully complete any combination between the CLEP exams listed in option one and the specified courses listed in option two from accredited schools.
It's important to note that the AQB has received no feedback regarding the Bachelor's Degree requirement for Certified General Appraisers, and therefore has not proposed any educational requirements changes for the Certified General Credential.
The AQB also emphasized that industry participants should not assume that this current proposal is a done deal, but to instead look at it as the beginning of the conversation.
Sources:
Valuation Review – valuationreview.com
The Appraisal Foundation – appraisalfoundation.org