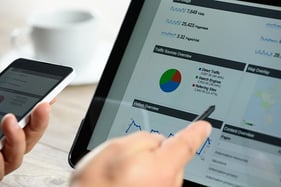 In today's fast-paced market environment, it's crucial that you take the necessary steps to ensure that your valuation management process is both efficient and effective. Making sure your reporting is accurate and configurable gives you the ability to mange productivity, monitor turn-times, and analyze all aspects of this process from start to finish.
With the trend to digital increasing, automating the reporting of your valuation process just makes sense. Automation will free up your staff's precious time by eliminating mundane tasks – giving them more time to serve customers and complete other initiatives.
To have the best of the best for your business, your reporting software should provide:
The ability to run real-time reports on your various appraisal processes.

The ability to understand your average appraisal turn-times.

Management reports that are automatically delivered to who you want, when you want (daily, weekly, monthly).
Investing in valuation management technology that's equipped with reporting automation will give your institution a competitive advantage and will help your staff easily track every aspect of the appraisal process. Not only will this grant your processors a more realistic idea of turn-times, it will also allow your team to instantly capture valuable data – including order data, daily summary reports, order status history, and turn-time reporting.
In addition, access to accurate data will also show crucial feedback on any process bottlenecks so that you can identify what needs to be improved. After all, you can't correct what you can't measure.
Global DMS' eTrac (residential) and EVO-C (commercial) valuation management platforms both provide robust reporting capabilities that allow users to streamline their reports in real-time via unique automation. These reports can be configured to capture every detail of your unique processes—including productivity, status updates, and turn-times—and can be automatically delivered to multiple recipients without the need of manual intervention.
For more information, contact us today for a free consultation.