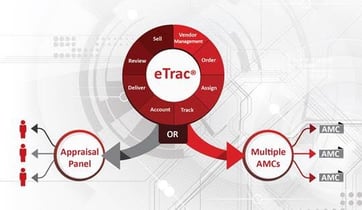 Whether you manage the appraisal process internally, externally through AMCs, or a hybrid of both, eTrac can be configured to meet your specific needs. This big difference maker is one of the most unique features of our platform, because it allows you to choose how to maximize your process efficiencies by customizing your own unique workflow within the system.
In-House Appraisal Panel Model:
Utilizing an in-house appraisal panel can be quite stressful to manage without the right system in place. With so many things to account for, it can be easy to accidentally miss something along the way – putting your lending institution at risk.
eTrac alleviates this common pain-point by efficiently streamlining the entire valuation process, keeping everything in full compliance with little to no resources.
Automatic Appraiser Validation & Monitoring

Easy Appraiser Set-Up

Integration w/ Your LOS

Automated Appraiser Scoring

Detailed Reporting

Seamless UCDP or EAD Delivery
Third-Party AMC Model:
The biggest issue for lenders that utilize multiple AMCs is that many of these companies use different technology applications. Lenders also face communication delays as a result of trying to mitigate these different systems.
eTrac provides one centralized system that has the bandwidth to not only manage all your AMCs from one place, but to implement them in a timely fashion to ensure minimal interruptions.
One Standardized System & Process

Customized AMC Distribution Logic

One System, Fully Integrated to Multiple AMCs & LOS Platforms

Automated Appraisal QC/Review

Automated Communications & Notifications
In-House & AMC Hybrid Model:
For lenders that utilize both an internal appraisal panel as well as outsource to AMCs due to differing channels or regional expertise, managing every aspect of this often-complex model can be quite cumbersome.
eTrac allows you to seamlessly manage both your internal panel and third-party AMCs at the same time – all from one platform. Specific workflows can be configured for your in-house-users as well as your third-party AMC-users, keeping both processes organized and on track.
For more information on how eTrac can simplify your specific business model, contact us today at 877-866-2747 (option 2) or productinfo@globaldms.com.