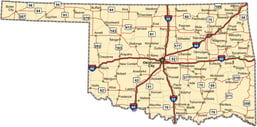 This past April, Oklahoma Governor Mary Fallin officially signed HB 2546 into law, which will bring the state's AMC legislation into full compliance with the Dodd-Frank Act – specifically the Truth in Lending Act's (TILA) Appraisal Independence Requirements. The new bill is set to become effective on November 1, 2016.
HB 2546 will also require an AMC's controlling person that's been designated as the main point of contact with the Oklahoma Real Estate Appraiser Board to notify the Board of any disciplinary actions imposed by other jurisdictions. In addition, the new mandate will also provide updates to the previous law's statutory language.
In regards to TILA, HB 2546 added the following language to SECTION 6 of the Oklahoma Appraisal Management Company Regulation Act:
"Appraisal Management Companies shall comply with the appraisal independence requirements of Section 129E(a) through (i) of the Truth in Lending Act, 15 U.S.C., Section 1639e(a) through (i), and regulations thereunder."
In terms of the new discipline notifications, HB 2546 added the following language to SECTION 4 of the Act:
"Notify the Oklahoma Real Estate Appraiser Board of any discipline imposed by any other jurisdiction, whether state or federal, including but not limited to consent agreements or orders, in connection with any real property valuation activity including, but not limited to, public or private reprimand, censure, financial penalty, probation, restriction on practice, delisting, suspension, revocation, surrender of license or credential, debarment or any other formal or informal resolution as to the Appraisal Management Company or any of its individual controlling officers in their capacity as an appraiser."
Any discipline imposed by another jurisdiction must be reported to the Board in writing within 10 calendar days of the certificate holder's receipt of the final order or notice of the discipline imposed. The Board will then determine the extent of the final discipline to be imposed, which may be less or more severe than the original discipline imposed by the other jurisdiction.
Lastly, HB 2546 added the word "suspended" to several sub-sections located under both Section 858-809 and Section 858-811 of the Act. These sections outline the specific requirements that pertain to those applying for, holding, or renewing an AMC registration within the state.
For more information, or to view HB 2546 in its entirety, click here.
Source:
Oklahoma State Legislature – oklegislature.gov