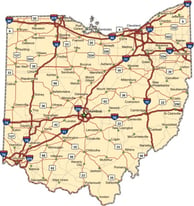 Ohio's new mandate to help prevent vacant or abandoned residential properties, known as zombie homes, has officially taken effect after passing through the state's legislature earlier in the year. By enacting its fast-track foreclosure bill, Ohio's foreclosure timelines should now be reduced from 2-3 years to as little as 6-months.
This new, bi-partisan legislation (originally known as HB 223) was first introduced in 2013 to the Ohio State Senate by representatives Cheryl Grossman and Michael Curtin. After three years of debate, including several rewrites and amendments, HB 223's fast-track foreclosure provisions were eventually rolled into a larger bill known as HB 390 – which easily passed the state's legislature.
Due to Ohio's existing foreclosure requirements, homes were able to sit vacant for at least two years. This new law will accelerate the state's foreclosure process, allowing mortgage servicers to take possession of a property before it deteriorates – increasing the likelihood that it can be rehabilitated and sold.
In order to qualify for this fast-track foreclosure process, the property must show evidence that the loan is in default. In addition, the property must also show clear and convincing evidence of abandonment, including disconnected utilities, boarded up windows and entrances, vandalism, physical destruction or deterioration, and/or substantiation that neither an owner or tenant appear to be living at the property.
Reducing the state's foreclosure timeline should help alleviate the problems caused by vacant properties, such as the spreading of blight, lowering of property values, vandalism, squatters, and violent crime.
Though fast-track foreclosure laws have not yet become the national standard, Ohio's new legislation could become the ground work for similar mandates throughout the country to help curb the negative impact that vacant and abandoned properties have on communities.
To view HB 390 in its entirety, click here (the section regarding foreclosures begins on page 70).
Sources:
DS News – dsnews.com
HousingWire – housingwire.com