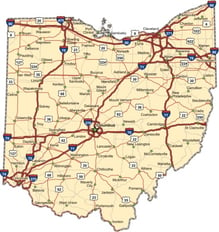 This past June, Ohio Governor John Kasich signed Substitute House Bill 213 into law, which establishes the state's AMC licensing and oversight program and makes minor changes to its existing appraiser licensing and certification law.
It's important to note that AMCs operating in Ohio will not be required to register and otherwise comply with the new law until six months after its June 14th effective date (December 14, 2018). This six month window was designed to give the Ohio Real Estate Appraiser Board some time to promulgate several rules that are necessary to implement the program.
The new law is fairly consistent with the federally mandated minimum requirements for AMCs, but is applicable to all entities that provide residential appraisal management services in the state of Ohio. This means that it does not exempt entities with fewer than 15 independent, in-state contractor appraisers on their panel.
Another thing worth noting is that the new legislation requires appraisers working for AMCs to include the license, certificate, or registration number of the AMC that engaged their services within the body of the appraisal report. In addition, these appraisers are also required to include the "actual fees paid to the appraiser" within the body of the appraisal report as well.
As stipulated by the Dodd-Frank Act, states are required to have AMC regulation in place by August 10, 2018. If a state fails to pass legislation, lenders will no longer be permitted to use AMCs for federally related loans within that given state.
Ohio marks the 48th state to enact AMC legislation, with similar laws still pending in New York and Massachusetts. Washington, DC and the four U.S. territories decided to opt-out of adopting AMC laws.
For more information on Ohio's new AMC legislation, including the full text, click here.
Sources:
The Appraisal Institute – appraisalinstitute.org
Valuation Review – valuationreview.com
The Ohio Legislature – legislature.ohio.gov