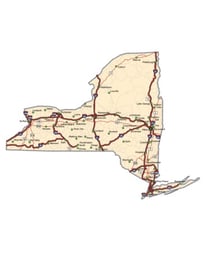 New York Governor Andrew Cuomo recently signed a new piece of legislation into law to help reform the state's foreclosure process and address the state's dilemma with zombie homes. The new law—known as the "New York State Abandoned Property Relief Act of 2016"—imposes additional requirements on mortgage lenders to maintain abandoned houses before foreclosure, and threatens them with civil penalties for failing to maintain residential properties once they're aware of vacancies.
According to a press release by Cuomo's office, the legislation combats the blight of vacant and abandoned properties by expediting the rehabilitation, repair, and improvement of these properties. It also imposes a pre-foreclosure duty on lenders and servicers to maintain zombie homes, creates an electronic registry of abandoned properties, establishes a state hotline where neighbors can report blighted properties, and expedites the foreclosure process for vacant and abandoned properties to get them back on the market.
In addition, the new law requires lenders and servicers to supply notices to borrowers that emphasize their right to stay in their homes until the foreclosure actually takes place, and enables the state to better assist homeowners that are facing foreclosure. It also enhances New York's mandatory settlement conferences, and establishes a Consumer Bill of Rights to help people remain in their homes.
According to Cuomo's press release, the legislation strengthens the state's home foreclosure prevention services by:
Enhancing the effectiveness of mandatory settlement conferences by prescribing the rights and duties of the parties and clarifying how the process should work to best protect homeowners contesting foreclosures.

Establishing a Consumer Bill of Rights—which enhances notification requirements to delinquent borrowers—to inform property owners of their rights in foreclosure proceeds.

Creating a Community Restoration Fund (CRF) for the State of New York Mortgage Agency (SONYMA) to help assist borrowers that are facing foreclosure.
The new law combats the blight created by vacant and abandoned properties by:
Imposing a pre-foreclosure duty on lenders and servicers to maintain vacant and abandoned properties as soon as they become aware of the vacancy. Failure to do so could lead to civil penalties up to $500 per violation, per property, per day.

Offering plaintiffs an option for an expedited foreclosure process on bonafide vacant and abandoned properties that homeowners no longer want.

Requiring a foreclosing party to move to auction within 90 days of obtaining a foreclosure judgement.

Requiring a foreclosing party to take action to ensure that the property is reoccupied within 180 days of taking title.

Offering a mechanism through the CRF to "expeditiously completely a foreclosure", while working with land banks, community development financial institutions, and other local nonprofits to rehabilitate properties and resell them to new buyers.
Sources:
NY Governor, Andrew Cuomo – governor.ny.gov
HousingWire – housingwire.com
CBS New York – newyork.cbslocal.com