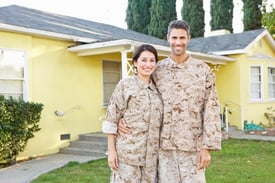 A new bill—known as the "Blue Water Navy Vietnam Veterans Act" (H.R. 299)—was recently signed into law by President Trump and will soon allow the Department of Veteran Affairs (VA) to back loans that exceed the conforming loan limit.
According to HousingWire's report, H.R. 299 will allow homebuyers using a VA loan to borrow above the 2019 limit of $484,350 for most counties without any down payment. This new mandate will become effective for loans that are guaranteed on or after January 1, 2020 and will also make the following changes to the VA's Loan Guarantee Program:
Eliminates funding fee differences for borrowers who are veterans versus those who are members of the Reserves.

Removes the loan limit for the Native American Direct Loan Program.

Exempts Purple Heart recipients from paying loan fees.

Authorizes VA-designated appraisers to rely on third-parties for appraisal-related information.
In addition, H.R. 299 will also temporarily increase the rates for certain loans by 0.15-0.30% to help finance the health care costs for veterans who are suffering from the effects of Agent Orange exposure – another key provision of the bill that will help compensate nearly 90,000 affected former service members.
Guidance regarding these impending changes should be available for lenders ahead of January 1st and will be published on the VA's website.
Sources:
HousingWire – housingwire.com
Military.com – military.com
VA – va.gov