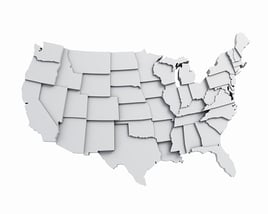 Cardratings.com—an organization that's devoted to educating consumers about credit cards—recently conducted its national study, which ranks the best and worst states for credit conditions.
According to Cardratings.com's article, the company has been ranking credit conditions in all 50 states and the District of Columbia since 2011. These rankings are based on a variety of factors and are found using the following criteria: average credit scores from Equifax; foreclosure rates from Attom Data Solutions; credit card delinquency rates from TransUnion; unemployment rates from the Bureau of Labor Statistics; and bankruptcy data from the U.S. federal court system.
Top 5 Best States for Credit Conditions:
North Dakota

South Dakota

Vermont

Montana

Minnesota
Top 5 Worst States for Credit Conditions:
Alabama (tie)
Georgia (tie)

Nevada

Louisiana

Mississippi
Since the first study in 2011, several states have been moving in the right direction, while others have begun to fall behind. For example, Idaho was initially listed as one of the top 10 worst states for credit conditions, but has since moved up 27 spots. On the contrary, Pennsylvania and New Mexico—initially listed within the top 25—have both dropped 21 spots respectively.
To see the entire study, including the full list of rankings, click here.
Sources:
Cardratings.com – cardratings.com
The MReport – themreport.com