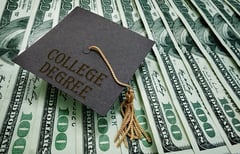 A recent study from the National Association of Realtors (NAR) and American Student Assistance (ASA) organization has provided evidence that student loan debt is currently disrupting the lifecycle of the housing market.
The groups' survey found that most millennials with student loan debt do not yet own a house, and 83% that fall within this category blame their college debt as the main reason why. They claim it has affected their ability to save for a down payment, and expect to be delayed by an average of 7-years.
Despite finding themselves at the prime age for homebuying, only 20% of the survey's millennial-aged respondents currently own a house. Even those that do own property still find their financial decisions influenced by their student loans, which has prevented them from trading up or investing further.
With the total amount of student loan debt estimated at $1.4 trillion, NAR explained that to keep the housing market moving in the right direction, more options are needed to help reduce college debt levels for future students. They also feel that more programs are currently needed to help struggling millennials manage their present debt levels.
That said, some lenders are beginning to offer programs that provide more home buying options to those with student loan debt. Fannie Mae, for example, recently adopted new policies, which allow their lenders to offer student loan cash-out refinances and other options to those that qualify.
Sources:
HousingWire – housingwire.com
Mortgage News Daily – mortgagenewsdaily.com