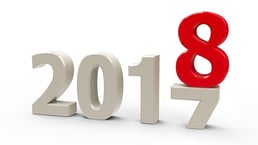 DS News recently reported that TransUnion has issued its 2018 credit forecast, which calls for the lowest mortgage delinquency rates since 2005, a reduction in the share of refinanced mortgages, and the return of home equity line of credit (HELOC).
According to TransUnion's forecast, the mortgage loan delinquency rate is expected to fall to 1.65% by the end of 2018. If correct, this would be the lowest rate seen since 2005, and would be a 0.26% decrease from what was observed during the 3rd quarter of 2017.
The forecast cites increases to the labor participation rate, median household income, and home equity levels as key factors that will help impact lower delinquency rates.
In terms of refinancing, TransUnion's forecast calls for a continued drop in the share of refinanced mortgages as a percentage of all mortgages due to the expected interest rate increases. The company sees the refinancing share dropping 7% year-over-year in 2018 – totaling only 28% of all mortgages by year's end.
The final trend calls for HELOCs to make a strong comeback in 2018, with TransUnion forecasting approximately 1.6 million HELOC originations during the upcoming year. The company's forecast predicts that rising home prices will cause more homeowners to tap into their home equity for things like debt consolidation to a lower interest rate, financing a large home improvement expense, and/or refinancing an existing HELOC or Home Equity Loan.
For more information regarding TransUnion's 2018 forecast, click here.
Sources:
DS News – dsnews.com
TransUnion – transunion.com