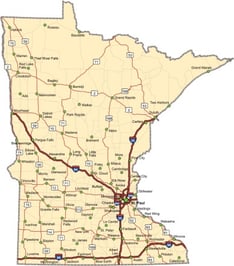 Late last May, Minnesota Governor Mark Dayton officially signed SF 2665 into law, which makes several changes to the state's existing appraiser licensing and appraisal management company (AMC) registration mandate. The recently updated legislation will take full effect on August 1, 2016.
SF 2665 has changed the old mandate's definitions to help clarify organizations that utilize employee appraisers to complete assignments, but that are not AMCs. The new law now states that any organization with more than 15 independent contractor appraisers in Minnesota—or more than 25 contractor appraisers in two or more states—shall be designated as an AMC and will therefore be subject to the state's AMC registration and oversight mandate.
Appraiser compensation was also included within the new law, and all AMCs operating in Minnesota will now be required to pay their appraisers at a rate that is customary and reasonable. The fees paid to appraisers must be customary and reasonable for both the appraisal services performed and for the market area that the subject property resides in. In addition, a provision was included within SF 2665 that allows the Commissioner of the Department of Commerce to establish a fee schedule, if necessary.
Except in the case of a breach of contract, or if an appraisal contains one or more documented compliance errors that have not been corrected by the appraiser, an AMC must pay their independent contractor appraisers within 30 days of the appraisal report's delivery to either the AMC or the client – whichever is sooner.
With that said, if a payment schedule has been agreed upon in writing between the AMC and appraiser, then the AMC may follow this predetermined schedule without being penalized. The new law allows AMCs to use various methods to ensure that the fees paid to their appraisers are customary and reasonable—including objective third-party information—but these methods must always be described and substantiated via written documentation.
Lastly, AMCs must now separately state to the client the following information:
The fees paid to an appraiser for their services.

The fees charged by the AMC for the services associated with the management of the appraisal process, including the procurement of the appraiser's services.
In addition, an AMC can no longer prohibit their panel appraisers from recording the fee that they received within the appraisal report. They are also now prohibited from including their appraisal management services fees in the same amount that reports what the appraiser charged for the appraisal.
For more information, or to view SF 2665 in its entirety, click here.
Sources:
Minnesota State Legislature – revisor.mn.gov
Valuation Review – valuationreview.com