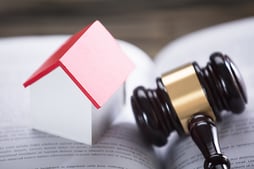 Within its latest Q3 Washington Report, the Appraisal Institute noted that both Massachusetts and Washington, DC have enacted AMC legislation to bring their laws into compliance with federal requirements.
These two join a long list of states to enact such legislation in 2019, including: Arizona, Arkansas, Colorado, Connecticut, Georgia, Indiana, Maryland, Mississippi, Nebraska, Nevada, New Mexico, North Carolina, North Dakota, Oklahoma, Washington, West Virginia, and Wyoming.
Massachusetts:
On July 31st, The Bay State officially enacted a comprehensive AMC law known as HB 3904, which took effect immediately. According to the Appraisal Institute, this new legislation is fairly consistent with the federal minimum requirements and puts the state's policies in compliance with the AMC Registry Rule. Most importantly, it allows Massachusetts' AMCs to avoid operational restrictions for federally related transactions.
Washington, DC:
DC's newest AMC legislation (B23-0382) was also signed into law on July 31st and took effect immediately. This new bill establishes a comprehensive registration and oversight program for the capital's AMCs, but will only be in place for 90 days. The Appraisal Institute reported that the DC Council is considering another bill (known as B23-0383), which would establish the same program for 225 days after mayoral and congressional review while the Council works on permanent legislation.
In addition, the Appraisal Institute also mentioned that both DC bills have an unusual aspect to them, as they place responsibility for AMC licensing and oversight within the Department of Insurance, Securities, and Banking – even though federal law requires AMCs to be supervised by a state appraiser certifying and licensing agency.
For more information, including additional legislation updates, check out the Appraisal Institute's complete Q3 Washington Report here.
Source:
Appraisal Institute – appraisalinstitute.org