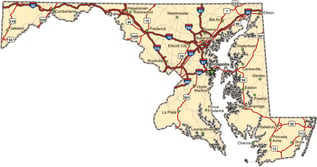 DS News recently reported that the Maryland legislature has passed two bills that will affect foreclosure notices within the state – House Bill 26 and House Bill 1048.
House Bill 26:
House Bill 26 amends the foreclosure notice provisions that are contained within the Maryland Real Property Article 7-105.2, and is set to take effect on October 1, 2017. The new bill stipulates that a notice of a foreclosure sale must be sent to a condominium association (COA) or homeowner's association (HOA) that has recorded a lien against the property at least 30 days prior to the date of the proposed sale.
In addition, House Bill 26 also stipulates that in the event of a cancellation of a foreclosure sale, the trustee must send notice of the cancellation to both the record owner and to any COA or HOA (to whom notice of the sale was sent) within 14 days of the cancellation.
For more information on House Bill 26, click here.
House Bill 1048:
House Bill 1048 adds a new registration component to the Maryland foreclosure process, and will take effect on October 1, 2018. The new bill will require the property in foreclosure to be registered with the state's Department of Labor and Licensing Regulation within 7 days of docketing the case.
Most of the collected information won't be unusual, but the eventual registration process will include a requirement to provide the contact information for the "person authorized to manage and maintain the property before the foreclosure sale." This means that in order to remain in compliance, servicers will need to provide property preservation contact information to their respective law firms (if they rely on such firms to handle the registration) early on in the process.
Of note, the statute does not define this new notice as a public record. Instead, it says the registration notice can be made available to the jurisdictions, a person who owns property on the same block, or the HOA or COA.
For more information on House Bill 1048, click here.
Sources:
DS News – dsnews.com
LegiScan – legiscan.com