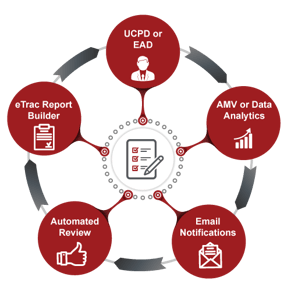 Switching valuation management platforms for your real estate appraisal operations may seem like a daunting task that will only fill your team with anxiety. However, the cost of not switching—or switching to an inadequate software program—could have lasting impacts on your organization and its processes.
Staff efficiency, order and vendor management, turn-times, and overhead costs are all negatively impacted when utilizing a management platform that has gaps in its automation and functionality. This fact only leads to more stress amongst your co-workers and the very anxiety you're trying to avoid.
Configurable workflow automation is the key ingredient for an efficient, self-sustained valuation management process, but it must account for the entire process to be a true benefit.
Many software providers claim that their platforms are fully automated, workflow-driven, and self-configurable, but this is typically not the case as numerous gaps can be found throughout the process. These gaps require manual input from users in order to trigger various mundane actions (like file delivery) that could otherwise be automated to help decrease turn-times, guarantee compliance, and allow staff to focus on other core initiatives.
eTrac® not only manages every key aspect of the valuation process, it automates this entire process from start to finish via its unique Workflow Engine – a status-driven tool that allows you to trigger automated actions based on the statuses of your appraisal orders.
Thousands of workflow configurations, which are self-configurable through an easy-to-use rules engine, are available and can be set to process once, always, or only when an order status changes – giving you plenty of options and full control. Some popular examples of its functionality, which are not readily available in most platforms, include:
Fully customize and automate email or file delivery to multiple recipients.

Schedule automatic notifications and reminders to your appraisers or staff.

Automatically send specialized reports to selected recipients as attachments.

Assign orders to engagers, reviewers, or supervisors automatically.

Give permission to selected appraisers or staff so they can view files automatically.

Automatically run a MARS® appraisal review (or other review products) on uploaded files.
Automatically run specified Data Analytics products on uploaded files.

Automatically submit UAD XML files to the UCDP or EAD portal.
eTrac's Workflow Engine also includes specialized automation capabilities for those that utilize the system's LOS integrations and other Web Services (including Client and Vendor API integrations).
In short, eTrac's unique automation will provide your team with new found efficiencies that will make a noticeable difference to your overall appraisal process – no matter what business model you follow. And, making the switch is less daunting (and expensive) then you may think.
Global DMS' knowledgeable staff and implementation team will help ensure as smooth a transition as possible and will remain dedicated to your team every step of the way – providing help and valuable guidance as you learn the eTrac system.
Contact us today at productinfo@globaldms.com for more information or to set up a free demo.