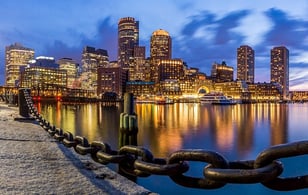 Commercial real estate appraisals are often complex, requiring patience and sound due diligence throughout the actual valuation and the important processes that follow. Though it may take weeks for an appraiser to complete an assignment, it's important for lenders and AMCs to remain mindful of any possible efficiency gains that are available.
For years, many within the industry have been stuck with antiquated commercial appraisal technologies that have not adapted to the modern mortgage environment. Not only do these systems lack important functionalities, such as digital forms, drag and drop file uploads, and robust reporting, their rigid structures require custom development work for the simplest of changes – leading to more delays, time-consuming work-arounds, and additional costs.
Global DMS' EVO-Commercial™ platform (EVO-C™) eliminates these common pain-points by implementing architecture and usability patterns regarded as best practice for today's commercial real estate industry.
EVO-C is the first product of its kind within the marketplace, providing lenders and AMCs with a completely configurable platform that has the ability to automate routine tasks. This is special, because it allows end-users to instantly configure the software according to the needs and timelines of their unique business processes with no development or implementation delays.
100% configurable platform, including fields, review forms, order forms, and reports.
Cleaner navigation with less clicks.
Instantly drag and drop large appraisal file uploads with no browser time-outs.
Consistent and effective review process that significantly reduces review turn-times.
100% control of vendors, who are automatically cross-checked against ASC.gov.
In addition, EVO-C streamlines the commercial appraisal bidding process by providing an easy way to send RFPs to multiple vendors and receive bids electronically – leading to quicker assignments and thus, quicker turn-times.
Becoming more efficient starts with the right appraisal technology. Contact us today at evopreview@globaldms.com to see how EVO-C is the difference-maker you've been looking for.