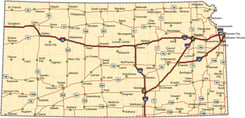 The Kansas Supreme Court has found a ruling from 2014 to be unconstitutional in regards to the state's property appraisal process, siding with a Johnson County Appraiser Department's claim against freezing a property's value for three years after a successful valuation appeal. This now unconstitutional mandate was initially created by the state's legislature after realtors appealed to lawmakers for relief from property tax increases.
According to both Hutchinson News and Valuation Review, Johnson County (and 20 others) opened a lawsuit against Kansas' Department of Revenue Secretary, Nick Jordan, and Director of Property Valuation, David Harper, who were responsible for implementing the law back in December of 2014.
The 20 counties involved in the lawsuit argued that the state's counties are required to reappraise property every year by law, and that the change created an unfair advantage to a small group of taxpayers over the majority who do not appeal or do so unsuccessfully. Prior to this legislation change, the law only required a value reduced by appeal to stay in place for one year's time.
The counties protested that this contrast between property that was subject to a successful valuation appeal and all other property in the state violated Kansas' constitutional mandate to provide a "uniform and equal basis of valuation and rate of taxation of all property subject to taxation."
The Kansas Supreme Court agreed, issuing the following statement from Justice Dan Biles in the court case document:
"The legislation has statutorily provided that all taxable property must be listed and valued every January 1st. Real property, other than property devoted to agricultural use, is appraised at fair market value on that date. But, the challenged statute changes this for a discrete group of taxpayers by insulating them from the annual valuation process. Such preference is constitutionally forbidden."
Sources:
Hutchinson News – hutchnews.com
Valuation Review – valuationreview.com