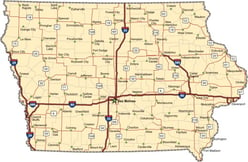 As of January 1, 2017, Iowa's appraisal management companies (AMCs) will be required to comply with House Bill 2436, which has created a set of mandates and conditions that include a new registration requirement and a new surety bond requirement.
House Bill 2436 defines an AMC as an entity that oversees an appraisal panel of more than 15 certified appraisers in the state of Iowa, or 25 or more certified or licensed appraisers nationally within a given year. These entities must also directly or indirectly perform appraisal management services.
According to the bill, all entities that fall within the scope of this definition will be required to register with the Iowa Professional Licensing Bureau as an AMC. These entities will then be required to renew their AMC licenses on an annual basis going forward.
When registering with the state's Professional Licensing Bureau, AMCs must include the following information on the application form:
The name of the applicant, the form of his or her business entity, contact information, and address.

The names and contact information of all other persons who own more than 10% of the business.

Information concerning the designated controlling person.

Information concerning the size of the applicant's nationwide or Iowa appraisal panel.

Various forms of certification confirming that the applicant complies with appraiser requirements and standards.

Any additional information that may be required by the Professional Licensing Bureau.
Those that are exempt from this AMC registration requirement include performance appraisal companies, government bodies, federally regulated AMCs, and departments or divisions of companies that only provide appraisal management services internally.
Upon registering for their new license, AMCs must also obtain and post a $25,000 surety bond. According to the bill's text, the requirements for this surety bond "shall only relate to liabilities, damages, losses, or claims arising out of the appraisal management services performed by the AMC involving real estate located in this state (Iowa)."
In addition, the bill also includes specific requirements and obligations for AMCs once they are licensed – such as mandatory reporting and detailed record-keeping of requested services. It also lays out all the prohibited activities, as well as the penalties for noncompliance.
For more information, or to view House Bill 2436 in its entirety, click here.
Sources:
Iowa State Legislature – legis.iowa.gov
Valuation Review – valuationreview.com