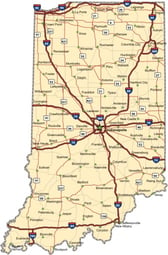 Last month, Indiana Senator Jon Ford (R-Terre Haute; District 38) introduced a new bill to the state's Senate known as Senate Bill 246, which deals directly with appraisal management practices.
In so many words, Ford's new bill states that any appraisal management company (AMC) that engages a real estate appraiser to perform an appraisal shall pay said appraiser for their work performed within a reasonable amount of time. The bill's definition of "reasonable amount of time" has been set at 30 days, and this hard deadline can only be altered if other stipulations have been made between the AMC and appraiser within a contract agreement.
In addition, Senate Bill 246 also provides a clause that states that an AMC may not prohibit a real estate appraiser from including in an appraisal the real estate appraiser's costs and fees for preparing said appraisal. This clause, according to Ford's interview with Valuation Review, is meant to act as a consumer protection mechanism.
Senator Ford provided a rough outline of the bill's future actions, and said that any work left on the bill will need to be done by March 15, 2016. If passed, the new legislation would take effect in July of 2016.
For more information, check out the Indiana General Assembly's website.
Sources:
Indiana General Assembly – iga.in.gov
Valuation Review – valuationreview.com