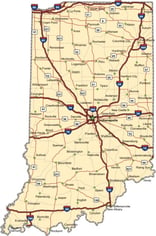 Indiana Governor Mike Pence recently signed Senate Bill (SB) 300 into law, which will allow state-licensed and state-certified appraisers to perform evaluations without having to comply with the Uniform Standards of Professional Appraisal Practice (USPAP). Indiana became just the third state to pass such a mandate, which is set to take effect on July 1, 2016.
SB 300 provides details on who can perform evaluations for financial institutions, and deals specifically with appraisement and real estate brokers. The new bill's provisions state that the current requirements of Indiana's appraiser licensing and certification law—including USPAP compliance requirements—will not apply to:
"The performance of an evaluation of real property by an employee, an officer, a director, or a member of a credit or loan committee of a financial institution, or by any person engaged by a financial institution, in a transaction for which the financial institution would not be required to use the services of a state-licensed appraiser under regulations adopted under title XO of the Financial Institutions Reform, Recovery, and Enforcement Act of 1989."
Under SB 300, state-licensed and state-certified appraisers will be able to compete with other providers of evaluation services—including brokers and salespersons—and will not have to comply with USPAP when performing evaluations for transactions in which a federally regulated institution is not required to obtain a USPAP-compliant appraisal.
With that said, these appraisers are cautioned to check with the Indiana Real Estate Appraiser Licensure and Certification Board, and/or legal counsel, prior to performing evaluation services that do not comply with USPAP.
In addition to Indiana, both Tennessee and Georgia currently have similar mandates for their state-licensed and state-certified appraisers as well.
For more information on SB 300, or to view the bill in its entirety, click here.
Sources:
Indiana General Assembly – iga.in.gov
Valuation Review – valuationreview.com
George R. Mann – georgermann.com