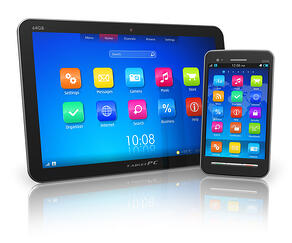 The proliferation of both mobile devices, and their many useful applications, has clearly demonstrated how businesses can leverage the power of mobile communications and computing to improve their overall productivity and revenue.
These mobile technologies (smartphones and tablets) have greatly reduced turn-around times and overhead costs for businesses, because they allow professionals to efficiently work form anywhere using single-purposed applications that are designed to automatically streamline and expedite key business processes – such as valuation management.
Appraisers arguably spend more time away from their offices than any other mortgage industry professional, and the advent of mobile technologies has transformed the way many of them can conduct their daily activities.
Mobile appraisal apps—like eTrac ATOM—allow appraisers to receive and manage all of their orders directly from their smartphones or tablets, and act as a compliment to their traditional desktop systems. Those that utilize these apps can see who and what their orders are for; quickly accept, accept with conditions, or decline orders; update their orders' statuses; schedule inspections with specific dates and times; and set specific delivery dates – all while on the go.
To expedite the process even further, an app like eTrac ATOM can be synchronized directly to an appraiser's office system to provide real-time updates. This prevents the need for duplicate data entry, which not only saves time, but reduces the risk of accidental errors or omissions.
In the end, this mobile process not only allows appraisers to handle a much greater volume of orders, it allows lenders to close loans that much faster.
Did you know that Global DMS has a mobile app for appraisers?
eTrac ATOM (Appraisal Tracking On Mobile) allows appraisers to easily accept orders, schedule appointments, call borrowers, update statuses, and get directions to the subject property being appraised – anytime, anywhere.
For more information, including a list of additional functionality, please visit our eTrac ATOM webpage.