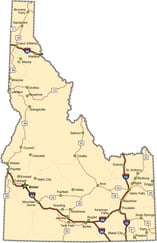 Idaho's Appraisal Management Companies (AMC) will soon have to follow a new set of regulations thanks to Senate Bill (SB) 1318, which was recently signed into law by Governor Butch Otter. Idaho becomes the 39th state to enact comprehensive laws regarding AMC registration and oversight, and the state's new mandate will officially become effective on July 1, 2017.
According to the Appraisal Institute's press release, SB 1318 is heavily modeled after the federal financial regulatory agencies' "Minimum Requirements for Appraisal Management Companies," which were published in April of 2015.
SB 1318's provisions will require Idaho's AMCs to:
Pay appraisers for their services within 45 days after the date the appraiser provides the appraisal to the AMC.

Utilize state-certified appraisers to perform appraisal reviews. If the review requires a review appraiser to provide an opinion of value, the review appraiser must also be licensed in Idaho.

Not employ or contract with any appraisers who have had their license refused, denied, canceled, revoked, or surrendered in lieu of revocation – unless the license was subsequently reinstated.
These same limitations will also apply to those that contract with an AMC, such as appraisal firms.
For more information, including additional provisions and a full copy of SB 1318,
click here.
Sources:
Appraisal Institute – appraisalinstitute.org
HousingWire – housingwire.com