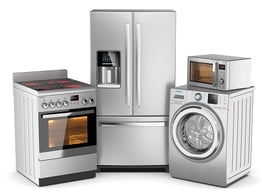 The U.S. Department of Housing and Urban Development (HUD) recently made several updates to its FHA Single-Family Housing Policy Handbook, which included clarification for appraisers regarding a new requirement that was issued earlier this year.
The new requirement in question originally called for appraisers to physically observe and operate appliances within a home while an appraisal was being conducted. The updated Handbook now states that in most cases, appraisers are only required to make sure that certain appliances that contribute to a property's value are physically present.
The new guidelines also provide a clear definition of "appliance", which includes refrigerators, ranges/ovens, dishwashers, garbage disposals, microwaves, washers, and dryers.
Both realtors and appraisers had expressed their concerns with the original requirement, stating that it essentially turned appraisers into home inspectors and exceeded previously understood appraiser duties. Both groups also felt that the original requirement would ultimately hurt consumers due to longer and more costly appraisals.
In addition to these above concerns, there were also reports of appraisers being blamed for broken or malfunctioning appliances by homeowners after completing their appraisals.
For more information regarding the FHA Single-Family Housing Policy Handbook, including real-time updates, check out the following webpage.
Sources:
The MReport – themreport.com
HUD – portal.hud.gov