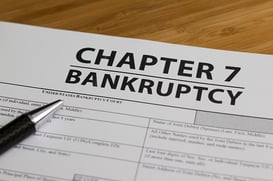 HousingWire and The Wall Street Journal recently pointed out that 2017 marks the seventh year since the large influx in bankruptcy declarations that were seen in 2010 – meaning millions of Americans will soon see clear credit reports.
In fact, roughly six million Americans will have their bankruptcies disappear over the next five years, which could lead to a surge of additional homebuyers entering the housing market.
Chapter 7, non-business bankruptcies peaked in 2010 during the housing crisis, but began to slowly decrease over the next few years. Now that seven years have passed, many of these bankruptcies will soon be removed, which will drastically improve credit scores for millions of consumers – enabling them to once again consider homeownership.
Of course, this will create even more competition in an already tight housing market with low inventory levels. That said, the country's homeownership rate could blossom over the next several years, so long as the struggling inventory levels can keep up.
Sources:
HousingWire – housingwire.com
The Wall Street Journal – wsj.com