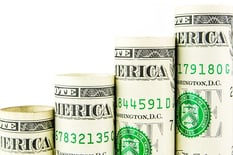 According to a recent article from HousingWire, the Mortgage Bankers Association has reported that the Federal Housing Finance Agency's (FHFA) house price index (HPI) in the 2nd Quarter of 2016 was nearly identical to the level seen in the 3rd Quarter of 2007.
This is significant, because once the HPI reaches pre-crisis levels, the Government Sponsored Enterprises (GSEs) can raise the conforming loan limit – the maximum mortgage origination balance that Fannie and Freddie are permitted to buy.
The FHFA restricted both Fannie Mae and Freddie Mac from raising the conforming loan limit until prices exceeded pre-crisis levels of one of the three HPIs – the expanded-data HPI. The federal agency defined pre-crisis levels as the level of the expanded-data HPI in the 3rd Quarter of 2007.
All three indices are repeat sales indices, but they each use different home price data. The all-transactions index and the purchase-only index use home price data from mortgages that are purchased by the GSEs. The expanded-data index goes a little bit further, and also incorporates information on home sales that are financed with mortgages insured by the Federal Housing Administration (FHA) – as well as other home sales transactions observed in deed records.
The expanded-data HPI has lagged behind the other two since the housing crisis began, but has now come very close to reaching the same level that was seen in the 3rd Quarter of 2007. This means that the FHFA could potentially raise the conforming loan limit for Fannie and Freddie as soon as 2017 – the first such increase since 2006.
Source:
HousingWire – housingwire.com