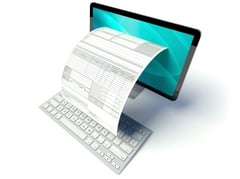 We all know the importance of appraisal-related forms and reports, as these essential components of the valuation process help monitor turn-times, improve overall performance, and assist with reviews – among many other things.
Having direct access to these valuable tools should be a common feature of any valuation management platform, yet this is typically not the case. Many systems only offer a handful of standard items, which requires both lenders and AMCs to pay for additional form-fill programs – leading to more costs, duplicate data entry, and slower production.
Global DMS' eTrac® platform eliminates this common pain-point by providing its users with a robust tool known as Global WebForms, which includes 24 pre-configured forms capable of automated reviews, field calculations, photo pages, offline data entry options, PDF and XML delivery, comparable and listing maps, and more.
This web-based, form-fill program comes standard with eTrac Enterprise and can be used for the fulfillment of appraisal review forms and checklists, BPOs, inspections, environmental, appraisal reports, HELOC valuation reports, and other alternative products.
So, if you're ready to reduce costs while improving production, it's time to stop settling for appraisal software that limits your capabilities and make the switch to eTrac – the industry's most complete valuation platform.
For more information, contact us today at productinfo@globaldms.com.