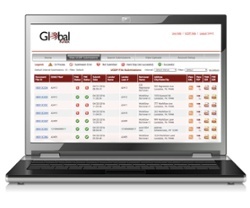 Global Kinex® is Global DMS' automated technology solution for seamlessly delivering appraisals to both the UCDP® and EAD portal. What makes Global Kinex unique is that it can be implemented as a stand-alone solution or in conjunction with our valuation management platform, eTrac® Enterprise.
Global Kinex allows users to submit electronic appraisal data files, receive statuses and findings, correct and modify appraisal file submissions, and request overrides (in some instances) when the valuation is not accepted by the portals.
Extraction:
Global Kinex validates and extracts the Base 64-encoded PDF within the Mismo XML file—ensuring an identical matching pair—which allows vendors to submit a single file for processing multiple workflows.
Conversion:
The conversion process allows PDF appraisals to be processed by other lines of business, such as a correspondent, where the original Mismo XML may be unavailable.
Validation:
Appraisals that are processed by Global Kinex undergo a thorough series of checks – including a GSE rules set and UAD compliance check.
Delivery:
Global Kinex allows individual reports to be submitted directly to either the UCDP or EAD portal. In addition, the tool's web services architecture provides organizations with a method to integrate UCDP or EAD delivery into their commercial or proprietary applications.
Post-delivery, users can easily track submissions, download Submission Summary Reports (SSRs), archive reports, resolve hard-stops, and resubmit reports.
For more information, or to see a customized demo, contact us today at productinfo@globaldms.com.