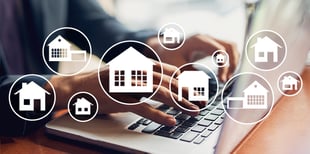 As the COVID-19 pandemic continues to alter life as we know it, the world of real estate—and especially appraisals—has changed dramatically, as social distancing continues to prevent in-home showings, inspections, and more.
However, just because we are forced to social distance doesn't mean that operational efficiencies can't still be realized – especially with appraisals. Through the use of innovative technologies, combined with best practices for navigating today's unique environment, lenders and AMCs will be better prepared to handle any challenge – gaining a significant competitive advantage.
To help show lenders and AMCs how this can be realized, Global DMS® will be hosting a special webinar with National Mortgage Professional Magazine (NMP) on June 4th at 1pm ET, which will explore the latest collateral valuation management best practices and how to apply these practices to enhance operational performances – no matter what business model is being followed.
Those that attend will uncover what's missing in their 3rd Party Oversight program for vendors and learn how to eliminate manual processes – reducing costs, errors, and delivery times. Lenders and AMCs will also learn how to effectively utilize AVMs and review products to pre-qualify borrowers and expedite underwriting and rebuttal resolution, and will be shown how configurable appraisal management technology can help streamline their unique appraisal process through automation, rules-based reviews, online forms, and detailed reporting.
If you're tired of COVID-19 delaying your appraisal operations and causing annoying and risky deferrals, be sure to catch our upcoming webinar on June 4th to discover how you can eliminate these pain-points and get back to closing loans.
For more information, or to register, please visit the following webpage.