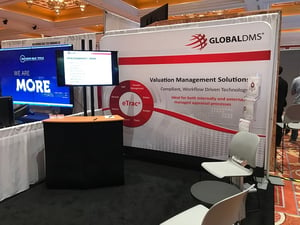 Are you attending the upcoming Ellie Mae Experience in San Francisco from March 10th through the 13th? Several Global DMS representatives—including Vlad Bien-Aime, Jody Collup, Shawn Barmore, and Nick Myhasuk—will be in attendance for the duration of the event and will be located in booth #515 on the tradeshow floor.
While there, they will be highlighting our flagship valuation management product eTrac® and its direct integration with Ellie Mae's Encompass® LOS. This seamless connection brings added efficiencies to a lender's valuation workflow by automating routine and important tasks, which allows the appraisal process to become much more efficient, cost-effective, and fully compliant with both state and federal regulations.
Without having to leave their native Encompass interface, lenders can tap into eTrac's unique workflow automation to efficiently complete their appraisal-related needs. This includes automated valuations, ordering full appraisals, real-time status updates, automated reviews, automated ULDD field population, and delivery to the UCDP or EAD portal.
The integration also provides a unique pre-scheduler tool, which allows lenders to select between 1-to-3 pre-determined appraisal appointment dates that a vendor must first agree to before accepting the order.
In summary, this easy-to-use interface establishes system-to-system transaction processing that dramatically speeds up the ordering and valuation management process for lenders by eliminating duplicate data entry, providing customized reporting, and facilitating robust communications between lenders and their valuation vendors.
If you're interested in learning more about the eTrac/Encompass integration, stop by booth #515 for additional details or to see a quick demo. You may also contact us at productinfo@globaldms.com or 877-866-2747 (option 2).