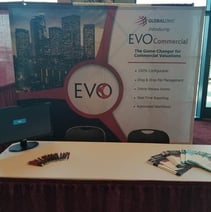 Does your commercial appraisal software truly provide the functionality you need? More importantly, does it fit your unique business model and allow you to close your commercial loans as efficiently as possible?
If you're looking to rid yourself of outdated and cumbersome appraisal management technology that only seems to slow your process, check out Global DMS' revolutionary EVO-Commercial™ (EVO-C) platform at table #6 during next week's MBA Commercial/Multifamily Servicing & Technology Conference.
EVO-C Highlights:
100% custom configurations within days or weeks – not months.

Cleaner navigation with less clicks.

Automated workflows.

Report Builder and Order Form Builder.

Instantly drag and drop large appraisal file uploads.

100% control of vendors, who are automatically cross-checked against asc.gov.
EVO-C will transform your commercial appraisal process, providing the centralized management system you need. For more details or a quick demo, stop by our table during the upcoming CMST conference or contact us any time via productinfo@globaldms.com.