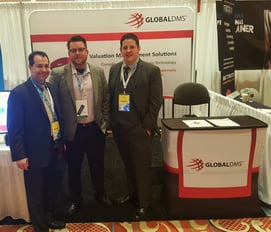 Over the next few weeks, Global DMS representatives will be attending and exhibiting at two industry conferences, and are looking forward to networking with new contacts as well as catching up with old acquaintances.
The company's representatives will be in attendance for the duration of each event, which are listed below in chronological order:
MMBA's Annual Conference:
Global DMS' National Sales Manager, Chris Palermo, and Account Manager, Jonathan Gartland, will be exhibiting the company's flagship product eTrac® at a table-top during this regional, MBA sponsored event – which is set to occur on May 5th from 9:00am to 6:00pm EDT at the Double Tree by Hilton in Annapolis, MD. For more information on this conference, click here.
MBA's National Secondary Market Conference & Expo:
The MBA's National Secondary Market Conference & Expo – designed for industry leaders and decision makers from both residential and capital markets – will take place from May 15th through May 18th at the New York Marriott Marquis in New York, NY. Global DMS will not be exhibiting at this event, but the company's CEO, Vladimir Bien-Aime, VP of Marketing, Jody Collup, and EVP of Sales, Mac Chiles, will be on-hand to network with peers and conduct one-on-one meetings. For more information on this conference, click here.
Are you attending one or both of these events? Interested in meeting one-on-one with a Global DMS representative? If so, please submit your request via email to marketing@globaldms.com.
About Global DMS:
Founded in 1999 and headquartered in Lansdale, Pennsylvania, Global DMS is a leading provider of commercial and residential real estate valuation solutions catering to lenders, servicers, AMCs, appraisers, and other real estate entities. The company's solution set is cost effectively delivered on a Software-as-a-Service (SaaS) transactional basis that ensures compliance adherence, reduces costs, increases efficiencies, and expedites the entire real estate appraisal process. The company's product line-up includes its eTrac® valuation management platform, eTrac Web Forms, Global Kinex®, AVMs and data analytics products, BPO management platform, the Mismo Appraisal Review System (MARS®), ATOM (Appraisal Tracking On Mobile), and AMCmatch.com.
For the latest industry and company updates, be sure to follow Global DMS on Facebook, Twitter, LinkedIn, and Google Plus.