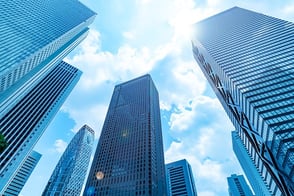 Global DMS is proud to present EVO-Commercial (EVO-C) – the evolution of modern day commercial valuation technology.
Specifically designed for commercial lenders needing a centralized platform, EVO-C revolutionizes their experience by providing custom solutions through unique configuration to their specific business processes. This 'next generation' management system is the first of its kind within the market place, and the only commercial platform that can automate a user's specific process without development intervention.
EVO-C streamlines the commercial appraisal bidding process by providing an easy way to send RFPs to multiple vendors and receive bids electronically. In addition, the EVO-C Network removes the burden of managing vendors, as they will now register within the platform as their own entity and possess their own profiles. Users can view and connect with these profiles as they see fit, while still being able to manage their unique vendor preferences – such as coverage area, fees, and notifications.
Configurable Software w/ Intuitive Design:
Literally every field is configurable, allowing you to change what you want when you want.
Guaranteed Efficiency Gains:
Deliver extremely large or multiple files at once with drag-and-drop capabilities and reference these files at any time with indefinite storage. Experience an enhanced review process via online review forms.
Global Assignment System:
Efficiently evaluate competing bids to find the most qualified vendor via map view, job history, pricing, qualifications, and experience – all in one view and with adjustable parameters.
Solid Compliance:
All vendor due diligence, assignments, bid award contracts, appraisal reports, and communications are tracked and stored.
Superior Support:
Extremely fast implementation timeline that will have you up and running in a matter of days. Minimal support will be required, but when questions arise, you will always get the right answers within minutes.
In short, EVO-C transcends traditional architecture and usability patterns that were previously regarded as industry best practice – making it a truly innovative management platform.
For more information, check out our website to see The EVO Difference.