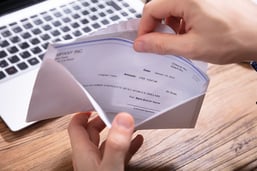 Managing payrolls may seem simple enough, but when it comes to real estate appraisers, this process can be anything but that. Due to numerous inconsistencies, such as assignment fees, payment due dates, etc., it's easy to get overwhelmed and lose track of what's owed, to who, and when – especially when dealing with larger panels or multiple AMCs.
To help alleviate this common pain-point, Global DMS® has partnered with Gig Wage, a technology company that specializes in contractor compensation software, to provide our eTrac® Enterprise clients with an efficient payments solution for their appraisers.
eTrac, combined with Gig Wage, seamlessly manages your appraiser payroll through advanced technology that's simple to use and provides numerous benefits, including:
Fast and compliant payments to your appraisers at an affordable rate.
W9 management, in which Gig Wage collects the needed information and automates both 1099 creation and filing with the IRS.
Batch payments, where all your appraisers can be paid quickly and easily at once.
Appraiser portal, which offers a real time view of payment statuses, payment details and history, and income reports to keep you on top of this important process.
As part of this partnership, eTrac Enterprise users are able to access and utilize Gig Wage at a discounted rate of only $1 per payment – with no monthly fees.
For more information, check out the following flyer. You may also contact Global DMS directly at productinfo@globaldms.com.
Current eTrac user? If you have any questions, please contact Technical Support at 877-866-2747 (option 3).