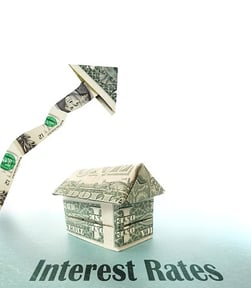 Many throughout the mortgage industry have been keeping their eyes on the rising interest rates, wondering how they will affect housing. Freddie Mac has taken notice to this subject as well, and in its recent February Insight report, the GSE looked at how these rising rates could impact the market.
Using past increases as a guide, Freddie's report looks back at the years between 1977 and 1981 – when interest rates were at their highest in recent memory. Between '77 and '81, the interest rate for a new 30-year fixed-rate mortgage jumped from 8% to 18%. This caused nearly a 40% drop in new mortgage originations, a 36% drop in annual single-family home sales, and a 51% drop in housing starts for single-family homes.
The GSE is not predicting that interest rates will once again reach these unprecedented levels, but did offer some insight as to what the rates could be and their potential impact. According to the report, if rates continue to hover between 3.5% and 4.5%—and inflation remains low—originations, home sales, and housing starts could each increase by 5-10% in 2018.
However, if the rates jump by 1.5 percentage points, Freddie Mac's report believes that originations will fall by nearly 30%. Likewise, home sales and housing starts will also suffer – dropping between 5-11%.
To view Freddie's full report, click here.
Sources:
Freddie Mac – freddiemac.com
The MReport – themreport.com