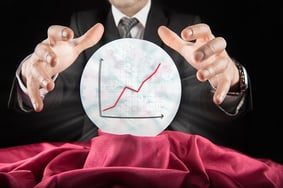 Mortgage News Daily recently reported that Freddie Mac's Economic and Housing Research Group has issued its October Forecast, which includes predictions into 2020.
The GSE's forecast looked into total economic growth, unemployment levels, mortgage rates, total home sales, home price growth, and mortgage origination figures.
In terms of economic growth, the forecast shows a 3% increase for all of 2018, but feels this will slow to 2.4% in 2019 and 1.8% in 2020. Strong unemployment levels have contributed to this economic growth, which the forecast feels will average out to 3.9% in 2018 before dropping even further to 3.8% in 2019. That said, Freddie sees unemployment levels rising to 4% in 2020.
The forecast expects the rates for a 30-year fixed rate mortgage to continue rising, reaching 4.5% in 2018, 5.1% in 2019, and 5.6% in 2020. Thanks to these rising rates (and home prices), the GSE's forecast shows a 0.9% decline in home sales year-over-year between 2017 and 2018, reaching only 6.07 million this year. However, it expects this area to regain momentum in the coming years – reaching 6.18 million in 2019 and 6.25 million in 2020.
Regarding price growth, Freddie Mac's forecast believes this will begin slowing in the years ahead. The GSE predicted an average growth rate of 5.4% for 2018, followed by a drop to 4.6% in 2019 and 2.9% in 2020.
With rates and home prices still expected to rise, even if more modestly, Freddie's forecast predicts that mortgage originations for single-family homes will initially decline 8.9% in 2018 to $1.65 trillion before holding steady in 2019. However, the GSE expects this figure to fall once more in 2020 to $1.60 trillion.
For more information, including detailed charts and further analysis, check out Freddie Mac's October Forecast.
Sources:
Freddie Mac – freddiemac.com
Mortgage News Daily – mortgagenewsdaily.com