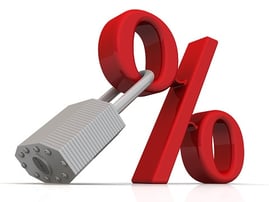 The Federal Open Market Committee (FOMC)—the policymaking arm of the Federal Reserve—recently announced that it will not be raising interest rates this month, but signaled that it remains on track to raise its benchmark interest in December for the first time this year.
The Federal Reserve indicated that it may be ready to raise the target rate at its next meeting in December, which would be exactly one year from its last rate hike. In December of 2015, the FOMC raised the federal funds target rate 25 basis points from their near zero level, where they had been for the previous nine years. Since this last raise, mortgage rates have dropped significantly and have remained near historic lows for much of 2016.
In its recent press release, the FOMC noted that since it last met in September, "the labor market has continued to strengthen, and growth of economic activity has picked up from the modest pace seen in the first half of this year." In addition, the Committee also said it expects—with gradual adjustments in the stance of monetary policy—that the economic activity will continue to expand at a moderate pace, and that the labor market conditions will continue to strengthen somewhat further as well.
The health of the economy has continued to improve, as the unemployment rate stood at only 5% in September – which is close to the historically normal level. Inflation also rose 1.2% year-over-year in September, up from the 0.8% seen this past July, and the economy as a whole expanded at an annual pace of 2.9% in the third quarter.
With all that said, inflation is still running behind the FOMC's objective of 2%. As a result, the Committee decided to maintain the target range for the federal funds rate at 0.25% to 0.5%. While the FOMC said that the case for a rate hike has strengthened, it voted to wait for more progress towards its objectives – which includes further improvements to the labor market and the return to 2% inflation.
Though a raise in rates looks likely in December, nothing is a foregone conclusion, because the Federal Reserve has repeatedly backed away from planned increases when the economic data has taken a turn for the worse. For example, numerous officials predicted a total of four rate increases for 2016, yet December's (assuming it happens) would be the first such raise of the year.
Sources:
The MReport – themreport.com
The New York Times – nytimes.com
HousingWire – housingwire.com